I have a domainer habit that I'm barely trying to kick. And these days, you can't satisfy such a habit without at least a couple of fanciful .LY domains. So, I own a couple. Okay, maybe a few.
I haven't done anything with these domains yet–that's part of the habit! I was thinking about using one of them for my personal URL shortener, and yes, I'm perfectly at ease using an .LY domain for this project. For one, I'm happy to support a nascent tech industry in Libya (at $75 per domain/year, no less!). For two, I received last week an e-blast note from Hadi Naser, CEO of my Libyan registrar of choice, Libyan Spider, explaining why .LY domains should always work:
.ly top-level domain works on five .ly root servers. Two are located in Libya, two are in the United States, and one is in Europe. In order for a .ly domain to stop working, all five must be offline or transmit empty responses. The Libyan servers are not in danger of being offline due to the fact that GPTC (General Post and Telecommunication Company), which controls the Internet in Libya and is also the legal representative and registry of .ly, has taken care of this issue by listing the Libyan .ly root servers in a "white list."

Despite the Internet connection to and from Libya being temporarily suspended, the communication and synchronization between the root servers takes place. Hence, .ly domains will not be affected and will continue to run. For your information, the Internet within the country is fully on.
But my ambition to setup an .LY domain now puts me in a morally awkward position: Do I really want to ask some tech guy in Tripoli to brave bullets, airstrikes, and God-knows-what-else to modify the DNS so that my petty vision of personalized, tweetable links can be realized?
In fact, I have no idea what's entailed in having Libyan Spider fulfill my request. Their homepage has been highlighting a hotline for "urgent issues" since the crisis began, a fact that suggests they have not been able to conduct business as usual: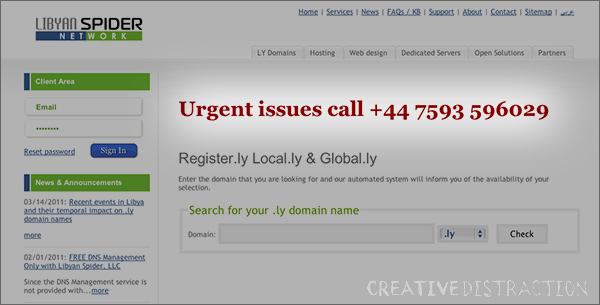 Naser's email recommends opening a support ticket for less urgent requests and asks for customer patience with the tone of a "please pardon our appearance while we remodel" placard. So I, feeling humbled and shallow, opened a ticket.